21 February 2020 | 17:00 – 19:00 | Rijksmuseum van Oudheden, Leiden
In the past weeks technical and diplomatic delegations from Egypt, Sudan and Ethiopia have been meeting regularly to negotiate the filling of the Grand Ethiopian Renaissance Dam that Ethiopia is currently building on the Nile River. Why is it so difficult to reach an agreement?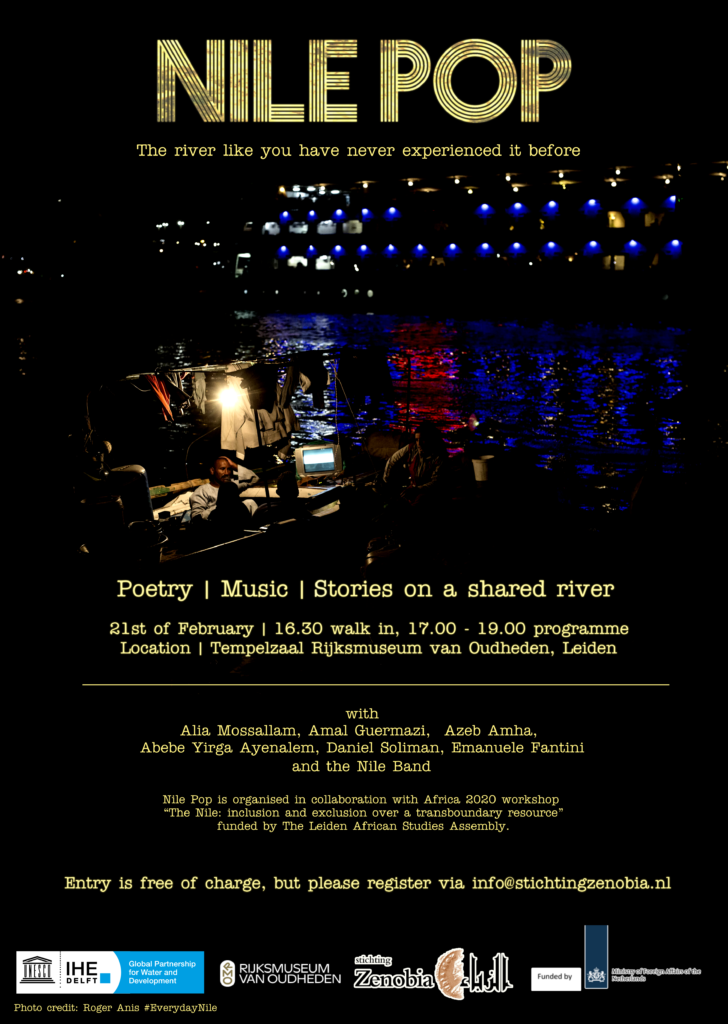 Nile Pop will turn the Rijksmuseum van Oudheden's Tempelzaal (the portal of the ancient Egyptian Taffeh temple)  into a stage featuring presentations and performances to show how the Nile river and its infrastructure have inspired popular culture in Egypt, Sudan and Ethiopia. Join us to discover how three countries are not merely negotiating water flows, but rather engaging with political identities, nation building projects, symbols and emotions deeply associated with the river. 
Nile Pop is organised by the project "Open Water Diplomacy. Media science and transboundary cooperation in the Nile basin", funded by the Dutch Ministry of Foreign Affairs – Global Partnership for water and development (DUPC2), in collaboration with Stichting Zenobia, Rijksmuseum van Oudheden, and the Africa 2020 workshop "The Nile: inclusion and exclusion over a transboundary resource" funded by The Leiden African Studies Assembly.
Entry is free of charge but please register by sending an email to info@stichtingzenobia.nl